Odoo development
A unique solution for your business
Although you prefer to work with Odoo's standard software, sometimes the business process requires something extra. That makes your company and approach unique, and that's why customers choose you.
Our developers can often develop customizations within a few days when Odoo's standard features fall short.
Live within two weeks
Your unique company DNA in an Odoo process
The best Odoo developers
5 benefits of Odoo customizations

In a competitive world, your company truly stands out when it is unique and offers something that others find difficult to replicate. Customization plays an important role in achieving this.


What is customization?
Customization, development, or customizing in the case of Odoo refers to a part of the software that is specifically tailored to the organization. Odoo customization is written to meet the specifications and business needs of the company and align with a specific business process of one or more organizations.


Benefits of Odoo customization
While during Odoo implementation, we strive to stay as close to the standard as possible, sometimes customization is necessary to automate a specific process. The advantage is that it follows and improves the current process. You can start small, with just the essential features, and later add functionalities. Often, we observe a few small (or larger) needs arising during or after implementation, and we engage one of our developers to address them. This can be done in Odoo relatively quickly, in sprints, and at relatively low costs.


The five benefits of Odoo customization:
​
1. It is tailored to the specific needs of your company
With customized Odoo software, you get a solution that fits 100% with your company's process. You make use of the standard features as much as possible and only add the extras you need.

2. It is a smart long-term investment
Developing custom software is a wise investment for the long term. You use the software in a way that is fully aligned with your unique business process.

3. It increases productivity
This is a no-brainer. By using Odoo in a way that meets your needs, your team will be more confident and perform tasks faster and more efficiently.

4. Scalability
We thrive on helping companies grow! Custom software evolves as the company expands.

5. Support
With our Odoo customization, you also gain access to our reliable and dedicated support team, who have been involved in the development process of your application. They are familiar with your software, understand your business, support upgrades, and can promptly address any issues.

Every organization has different needs. In some cases, the standard functionality of Odoo may fall short. By leveraging developments in Odoo, businesses can bring their ideas to life and gain an edge over their competitors who are still stuck with off-the-shelf solutions.

At FANATICS, it is our passion to deliver Odoo software solutions and services. We customize Odoo to meet your unique needs and improve your business processes.

Regardless of the industry you operate in or the size of your company, you can always rely on FANATICS to successfully implement your requirements.

Odoo developer Amsterdam
Are you looking for an Odoo developer in the Amsterdam region? There are several options available. Although they may be scarce, we have the best experienced Odoo developers in the area.
We have various Odoo developers in the Amsterdam region, as well as top-notch Odoo developers outside the Netherlands. Regardless of the option, you will always communicate with a consultant from our team in your preferred language, either Dutch or English.
Want to learn more? team@fanatics.nl or call +31(0)88-8200700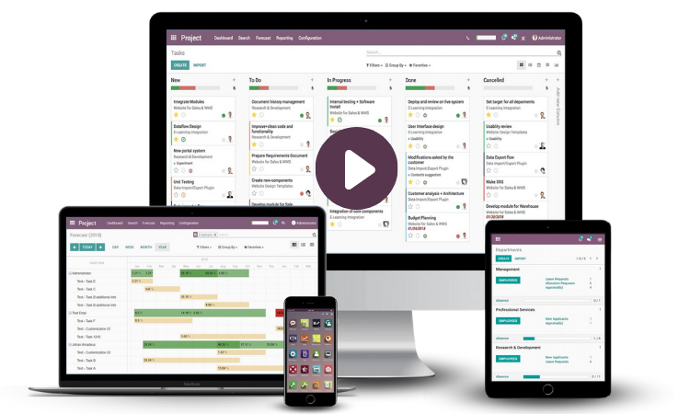 Discover the possibilities of Odoo ERP
Including CRM, Sales, Marketing, eCommerce, Inventory, Procurement, Manufacturing, HR, Project Management, Time Tracking.